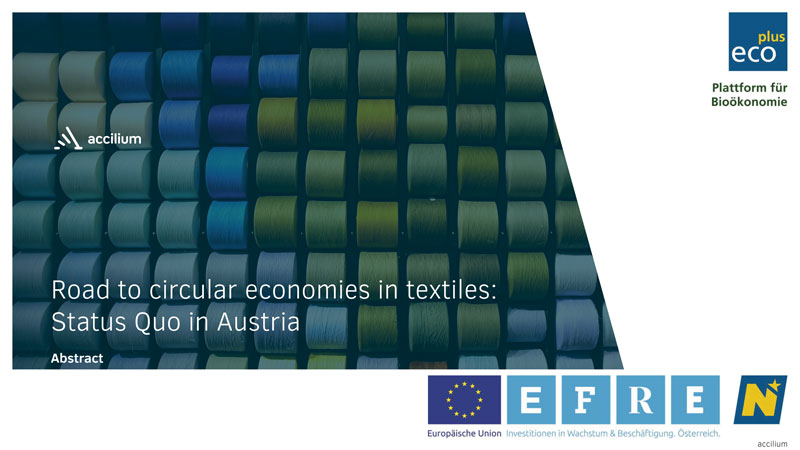 Aktuell haben wir die Beratungsfirma Accilium mit einer Studie für neue Business-Cases im Textilrecycling beauf­tragt. Das Ergebnis möchten wir Ihnen zum GFC online Kongress im Rahmen eines Präsentations-Workshops am 15. September um 18:30 Uhr vorstellen. 
Initial Situation
With the adoption of the Circular Economy Package in 2018, in line with the European Bioeconomy Strategy and the European Green Deal, the European community has decided to become more sustainable, reduce resource consumption, and move form a disposable to a circular economy in the long term.
The implementation of the EU Directive is the responsibility of the member states: For Austria, the corresponding legislation to achieve the targets is still open, (2025) of the number of textiles they bring to the market for "Re-Wear", "Re-Use", or "Re-Cycle".
One of the challenger is that the non-recyclable portion is mostly down cycled or sent for thermal recovery, less than 1 % of textile waste is recycled into new textile fibres.
Status Quo im Textilrecycling
In other areas, the circular economy is already well established. Initiatives such as PET2PET show that a circular economy in recycling is possible and can also work if the entire value chain is included.
Strong-selling fashion brands are under pressure from the social trend towards sustainability, zero waste and resource and climate protection to tale initiatives on their own.
In addition, technological trends are making it easier to collect and separate textiles. Artificial intelligence and digitalisation initiatives are making it easier to build and implement a circular economy.
Nevertheless, textile recycling still faces many challenges. Especially in the area of collection, sorting and recycling there are still obstacles, as well as the cost intensity along the value chain.
Eu research and funding projects and national initiatives, are trying to address these challenges and find solutions.
Aim of the Study
The European, as well as international comparison shows that Austria is currently not able to keep up in the field of textile recycling and in the implementation of EU regulations.
A study, conducted by accilium, on behalf of eco plus, analyses existing business models in textile recycling, current challenges and gives recommendations for action to build a circular economy.
©  Text: